DIGITAL EXTENSIONISM 

AVAILABLE TO EVERYONE
Get all the information you need to control the development of your crops throughout the cycle, without experience in the use of technology.
We believe that digital agriculture should be available to everyone, including those who do not have access to the Internet and those who find it difficult to use technology. 
Information to prevent
Weekly weather forecast and timely weather alerts by plain text message.
Information for planning
Recomendaciones, nuevas técnicas de manejo y paquetes tecnológicos por mensajes de texto.
Information for taking action
Market prices, news on stockpiling and relevant communications by text message.
Without internet
Captum Digital Extensionism works on any phone, anywhere there is cellular coverage and does not consume data.
Without installations
Captum Digital Extensionism works without installing any additional applications.
Without complications
Captum Digital Extensionism requires no additional manual, training or instructions. It operates on autopilot.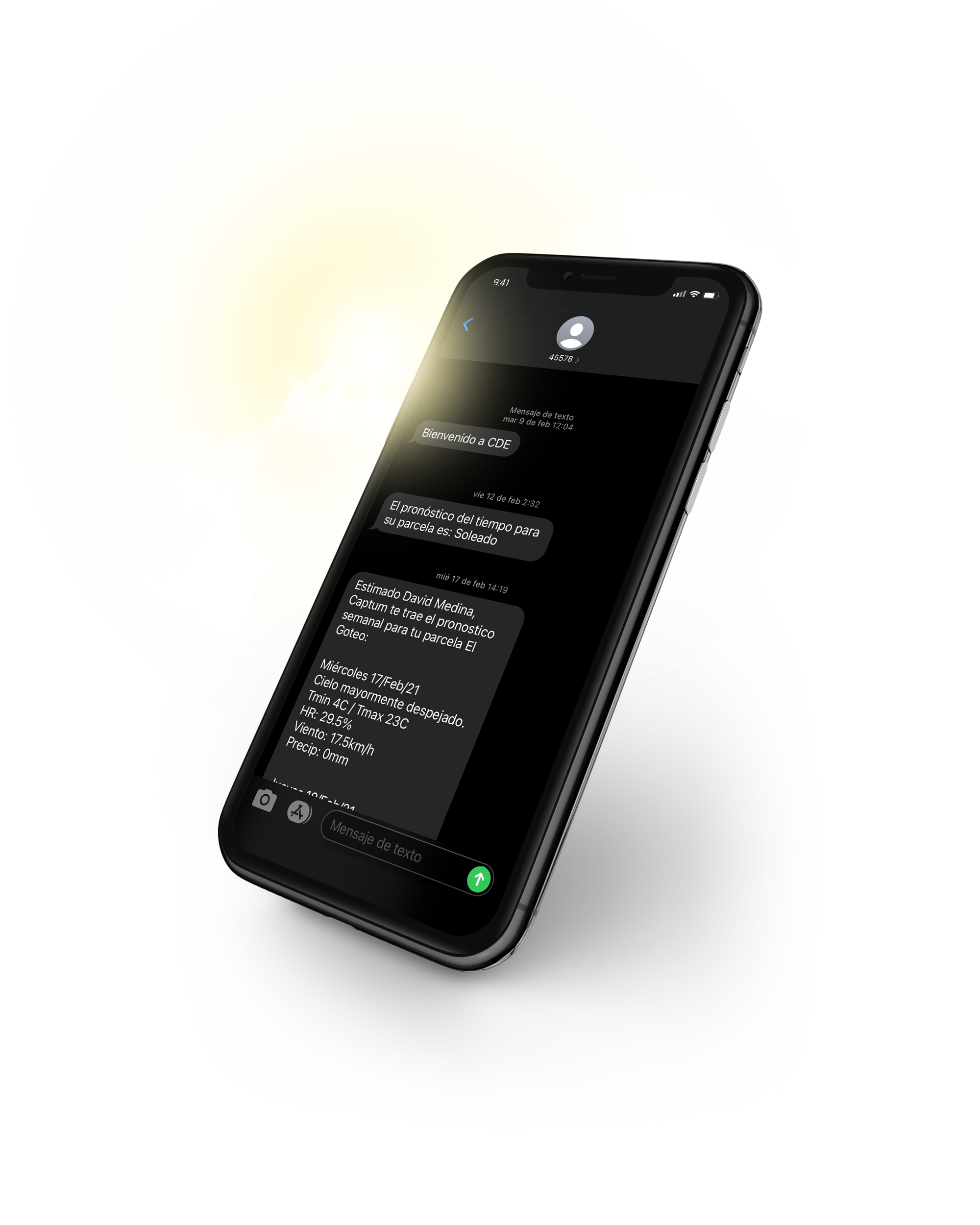 Get it for yourself, for your insured, for your customers or for your suppliers.
Captum Digital Extensionism is simple, practical and flexible. No matter what your goals are, this service will help you achieve them by giving you access to relevant crop information at a low cost and immediately. 
Frequently Asked Questions
Here are the most important things you should know about Captum Digital Extensionism.
How can I contract the service?
Contracting the service is very easy and it won't take long, just click on the contract button and fill out the form to start the process. Don't worry, we will guide you through the whole process. 
How do I register my plot?
Registering a plot is very simple, we will advise you personally. You only need to have at hand the coordinates of the central point. In case you don't know it, you can give us other indications such as the approximate distance to the nearest town.
What kind of information will I receive?
Weekly weather forecast for the agroclimatic zone of your plot.

Rain, strong winds and frost warnings that may occur within the agro-climatic zone of your plot.

Agronomic information of interest for the development of your crop; good practices and general recommendations for crop management.

Information on guarantee prices, collection centers, agro-inputs, market information, agricultural insurance, public program information, etc.
How accurate are the forecasts?
The accuracy of the weekly forecasts is within a radius of 4 km from the center point of your plot and has a 95% reliability.
How long will I receive the service?
At the time of contracting you decide the period for which you would like to contract the service. We currently offer two options:
4- 5 months per crop cycle

12 months for perennial crops such as fruit trees and agave.